Ok 15 minutes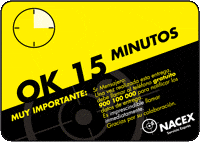 A special service for those deliveries which require immediate notification to the client/sender, within 15 minutes from the moment of delivery.
Supplement of 3€ on shipment price.
[ Upload ]
Saturday delivery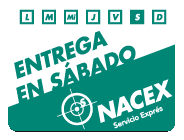 For deliveries which have to be made between 09:00 hrs and 13:00 hrs on Saturdays.
The NACEX 12:00H service is subject to a supplement of 9€ for towns/cities with a Nacex office or within its working radius (30km round trip).
For towns/cities of greater distance, mileage will be charged at 0.65 €/km (round trip) on account holder rates and 0.70 €/km (round trip) on general rates, plus the SATURDAY DELIVERY supplement.
For destinations with customs and excise duty, documentation delivery only.
[ Upload ]
Cash on delivery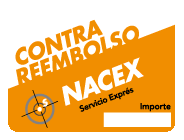 For shipments which require completely guaranteed cash on delivery.
Repayment of the amount will be made to the client within 2 to 5 working days, once the delivery has been made, via a bank transfer or cheque.
3% commission on the amount to be repaid (this will be a minimum of 3 € and a maximum of 30€).
Maximum authorised payment per shipment: 3000€.
[ Upload ]
Advances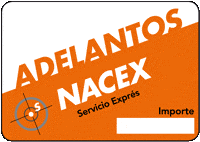 For those services which require credit in order to make a purchase or for other transactions, up to a maximum of 120.20€.
Commission: Up to 6€ exempt. From 6.01€ upwards 3%, with a minimum of 3€.
Payment of the advance and of the commission will be made upon delivery of the service.
Exclusive service for account holders (Spain and Portugal).
[ Upload ]
Official deliveries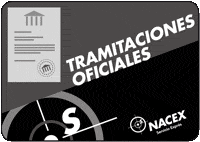 A special service for those affairs which need to be dealt with by official organisations:
• Visas from Consulates or Embassies.
• Presentation of immigration documentation to the Foreign Office.
• Presentations of official books in the company register.
• Transactions with Traffic Headquarters.
• Presentation of VAT (I.V.A.) to the Inland Revenue (Tax Office).
• University enrolment
Supplement of 20€ on shipment price.
[ Upload ]
Delivery with special handling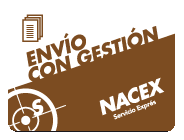 Shipments with precise arrangements, a service for those cases which require special steps or additional instructions in specific destinations.
Supplement of 10 € on shipment price.
[ Upload ]
Returns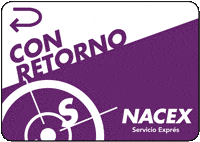 Delivery service with an order for the return of goods in exchange.
[ Upload ]
Arranged Delivery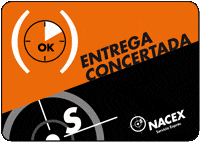 Services that require delivery times which are arranged with the consignee, with an agreed minimum leeway of 2 hours between 09:00 hrs and 20:00 hrs.
For towns/cities with a Nacex office or within a radius of 15km there is a supplement of 9€.
For towns/cities of greater distance, mileage will be charged at 0.65 €/km (round trip) on account holder rates and 0.70 €/km (round trip) on general rates.
Service comes with free pre-alert included
[ Upload ]