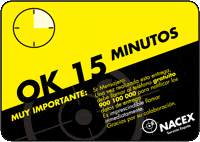 OK 15 MINUTES
Special service for deliveries that require immediate notification to the customer/sender within a maximum of 15 minutes from the time of delivery.
Price: 3 €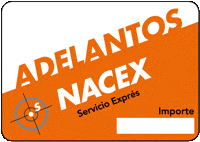 ADVANCE PAYMENT
For services that require credit for making a purchase or a transaction, up to a maximum of €120.20. Fee: none up to €6. From €6.01, 3% with a minimum of €3. The advance amount and the fee are paid when the service is provided.
Exclusive service for subscribers (Spain and Portugal).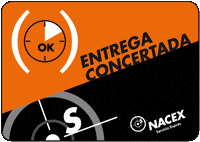 ARRANGED DELIVERY
Services that require a delivery time arranged with the addressee with a minimum margin of 2 hours between 09:00 h and 20:00 h. Supplement of 9 € in towns/cities with a NACEX franchise and its 15km radius of influence. For towns/cities further away, current mileage surcharges will be applied of 0.74 €/km (return journey) for the client account holder tariff; for the General Tariff this will be 0.79 €/km (return journey). Free Pre-Alert Service included.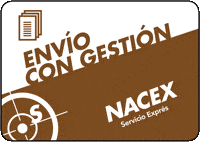 SHIPMENT WITH SPECIAL HANDLING SERVICE
Shipping with handling services for deliveries that require special procedures, additional instructions or special manipulations.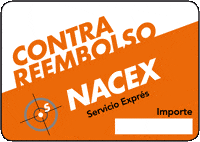 CASH ON DELIVERY
For shipments that require a fully guaranteed cash on delivery service. The amount is paid to the customer by bank transfer within 2 to 5 working days after the expedition is delivered. The fee is 3% of the amount payable (with a minimum of €3 and a maximum of €30). Maximum amount authorised per expedition: €1000 (or maximum amount authorised by law). Except NACEX.shop point limited to €600.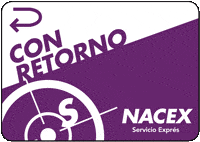 RETURNS
Delivery service with a return order in exchange.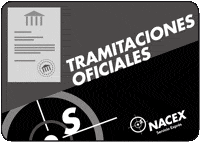 OFFICIAL PROCEDURES
For services that must be processed by official bodies:

Visa documents in consulates and embassies
Submitting immigration documentation to the Foreign Ministry
Submitting official books to the Companies Registry
Procedures with the Traffic Authorities
University enrolment
Accepting credentials.

Price: €20.