Nacex Bag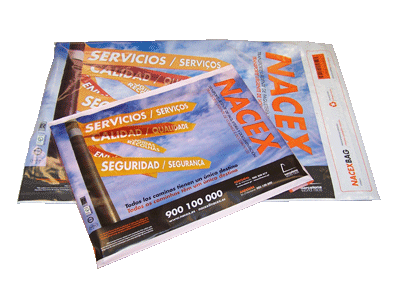 Dimensions:
• 32x42cm. + a 6.5 cm. flap
• 30 x 23cm + a 4.5cm flap
• Impermeable, tamper-proof and recyclable, with an individual number (security code) which provides further control of the shipment, for documents and items weighing up to 2kg. Barcode identification.

• Bubble wrap envelope: useable as protection for any shipment submitted in NACEX BAG.
COST size 20 x 25cm: 0.07€
COST size 25,3 x 33cm: 0.09€
[ Upload ]
Nacex Pack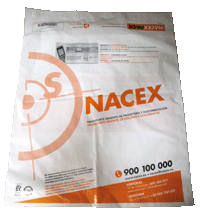 Dimensions:
• 49.5 x 50cm + 10cm flap + 10cm max. depth
•Impermeable, tamper-proof and recyclable, with an individual number (security code) which provides further control of the shipment.
•Designed to adapt itself to a wide range of goods.
•COST: 0.15€
[ Upload ]
Nacex Box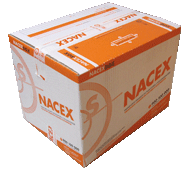 Dimensions:
• 38 x 14.5 x 17.3cm. COST: 0.45€
• 40 x 30 x 15cm. COST: 0.80€
• 40 x 30 x 30cm. COST: 0.95€
•Double layer, corrugated cardboard box.
•This packaging is adapted to our standard tariff, and therefore is not subject to a volume supplement.
[ Upload ]
Nacex Minibox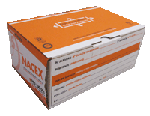 Dimensions: 25 x 15 x 10cm. COST: 0.15€
•Same tariff as NACEX BAG as long as its weight does not exceed 2kg.
•The shipments must always be properly sealed while being transported.
[ Upload ]
Nacex Mailbag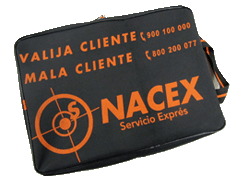 Dimensions:
47 x 32cm + max. depth of 8cm
•Mailbag made of resistant and impermeable, plastic material.
•Designed to hold documents and small packages.
•Fastener suitable for any type of security seal.
[ Upload ]
Protec Bag and Pack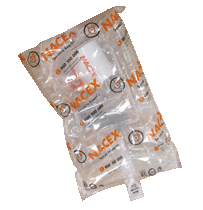 Dimensions:
• PROTEC BAG: 27.5 x 43.5cm. COST: 2.90€
• PROTEC PACK: 45.5 x 61.5cm. COST: 3.80€
•Consists of a recyclable, reusable plastic bag which adapts itself to the product whilst also protecting it.
•Represents a 90% reduction in raw materials compared with conventional packaging, giving great ecological benefits as well as cost savings.
[ Upload ]
Bottle protector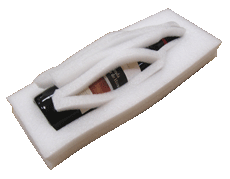 • A white Stratocell (white, polythene foam), 14.5 x 38cm, moulded in such a way that it fits tightly, totally protecting the bottle once inserted.
• COST: 1.10€/protector
For 1 bottle:
1 protector + NACEX BOX
size 38 x 14.5 x 17.3cm. = 1.61€
For 3 bottles:
3 protectors+ NACEX BOX
size 40 x 30 x 15cm. = 4.18€
For 6 bottles:
6 protectors + NACEX BOX
size 40 x 30 x 30cm. = 7.91€
[ Upload ]
Nacex Tubebox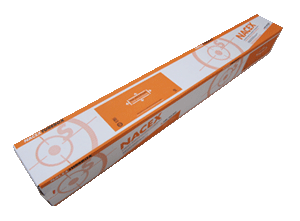 Dimensions:
15 x 15 x 120cm. COST: 0.62€
• Double layer, corrugated cardboard box.
• Special design for transport of tube-shaped shipments.
• Can be converted into 2 units of 15 x 15 x 52.5cm.
• Tube-type shipments that are incorrectly packaged may suffer a delay of up to 24hrs as they may not be able to be sorted using our automatic classification systems.
[ Upload ]
It supplies Protector (Korvu)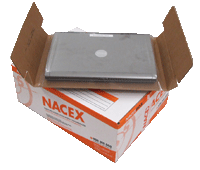 •Ideal packaging for the transport of computers and other IT supplies.
•Consists of a layer of cardboard and a high resistance polythene laminate, with a flexibility which ensures that the material being transported remains totally protected and immobilised by an air chamber that separates it from the walls of the box.
•COST: 2.01€/protector+NACEX BOX size 40 x 30 x 15cm. = 2.81€
[ Upload ]
e-N@CEX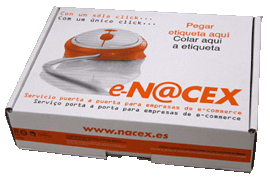 Dimensions 36 X 26 X 8cm COST: 0.25€

• Corrugated cardboard box.
• Specifically for the e-N@CEX service.
• Shipments must always be correctly pre-sealed when sent.
[ Upload ]
DOCs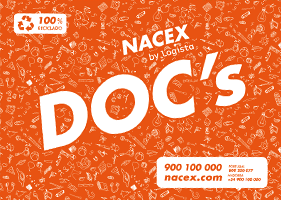 Dimensions: 25 x 35 cm
• Rigid cardboard envelope designed to contain documents.
• Shipment of documents up to 1kg in weight.
[ Upload ]